The Mezco One:12 Collective Predator Deluxe Edition Joins the Hunt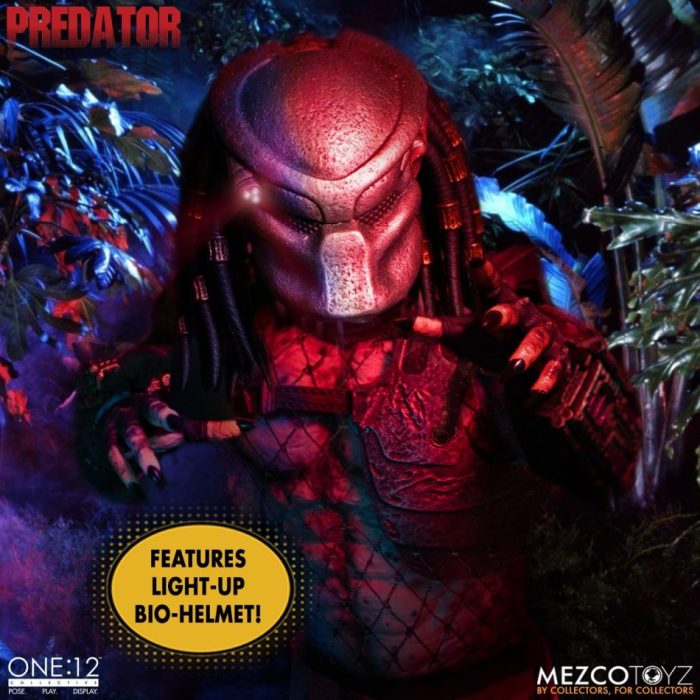 The new Mezco One:12 Collective Predator – Deluxe Edition figure has arrived for the hunt and now available for pre-order.
Predator from Mezco is outfitted in battle armor with thermal netting and a fortified chest plate, allowing for greater mobility while hunting. The ruthless hunter comes with 2 removable bandoliers made from the bones of his prey and features a head portrait with an interchangeable mouthpiece and light-up bio-helmet – all attached via a magnet.
Predator always has the upper hand and comes complete with advanced weaponry such as a shoulder-mounted Plasmacaster with light-up function – capable of firing armor-penetrating plasma blasts at distant targets, wrist gauntlet with interchangeable blades, backpack with removable Medicomp, removable trophy accessories, and a severed spine and skull that can be held.
Characterized by their hunting of other dangerous species for sport and honor, Predators are a superhuman species that use a combination of highly advanced technology such as energy weapons and active camouflage.

THE ONE:12 COLLECTIVE PREDATOR FIGURE FEATURES:
One:12 Collective body with over 28 points of articulation
One (1) head portrait with two (2) interchangeable mouthpiece
Hand-painted authentic detailing
Approximately 20cm tall
Seven (7) interchangeable hands including 

One (1) pair of fists (L & R)
One (1) holding hands (L)
One (1) pointing hand (R)
One (1) severed spine and skull holding hand (L)
One (1) pair of posing hands (L & R)
Read more Predator toy news now!
And now, our favorite scene…