Best Paint For Action Figures and Custom Toys 2023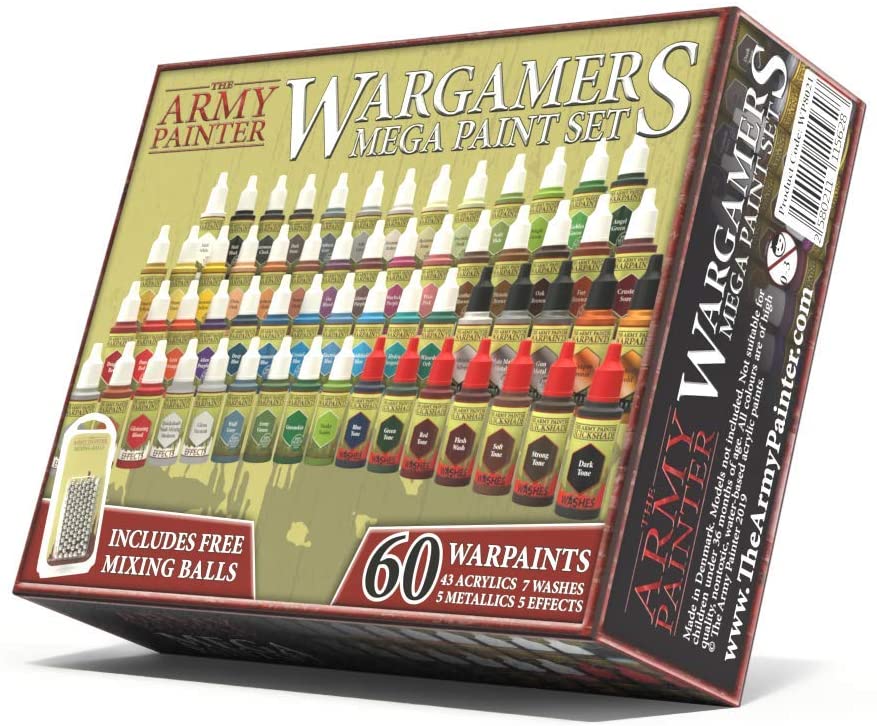 Looking for the best paint for action figures? After discussing with fellow painters and toy customizers, we've come up with the best acrylic paints you can use for painting toys and action figures.
The Best Paint for Action Figures and Custom Toys
There are a huge variety of high-quality acrylic paints on the market that can be used on your next custom toy or miniature project. We've done some research and have found some of the most popular paint brands and paint sets on the market for beginners and pros.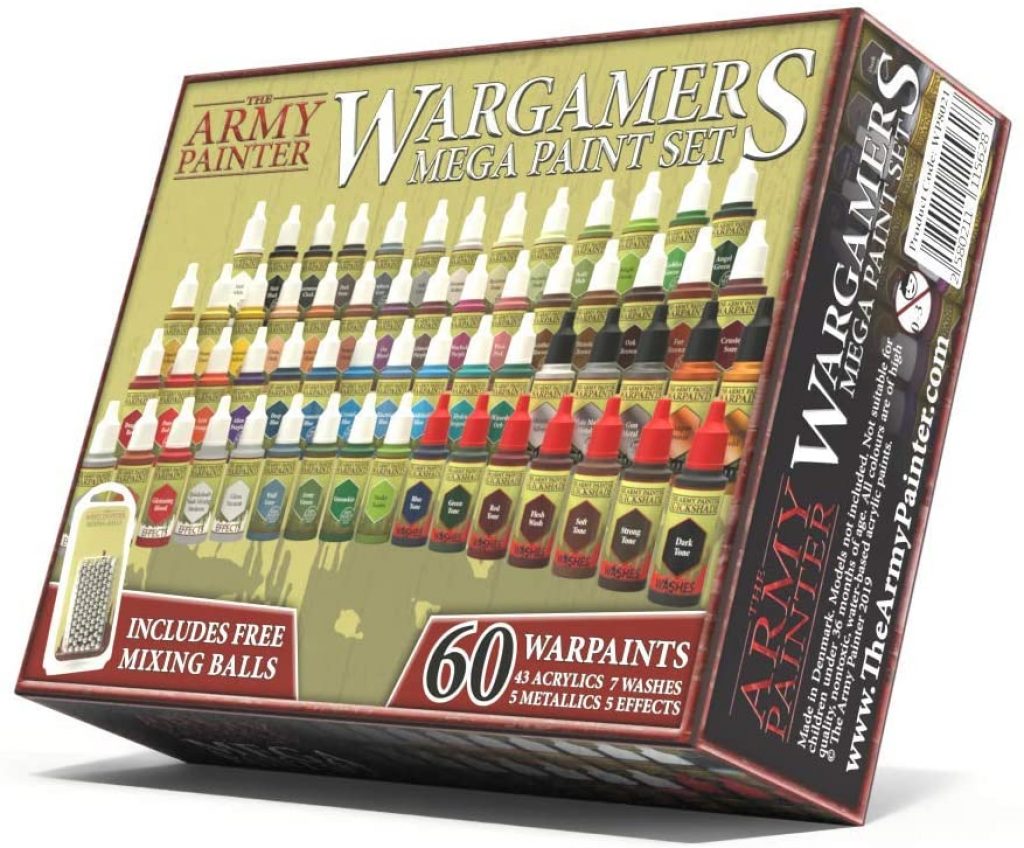 The Army Painter produces one of our favorite paints on the market. If you're looking for an amazing set of paints that won't break the bank, but will yield phenomenal results, The Army Painter Wargamers Mega Paint Set may be for you.
No need for countless hours of mixing colors. The colors are crisp and clear and bright! All the colors you need for painting an army of custom toys comes in the Wargamers Mega Paint Set. From base-coating to highlighting, to painting fine details, this set will take your custom game to another level. The Army Painter paints are formulated with a combination of strong pigment and creamy consistency, perfect for painting highly detailed custom action figure. Their metallic paints come in a wide range and are well-known for their high concentration of metallic flakes and superb coverage, even at first application. Painters are able to create realistic shading effects in very little time with their famous quick shade washes.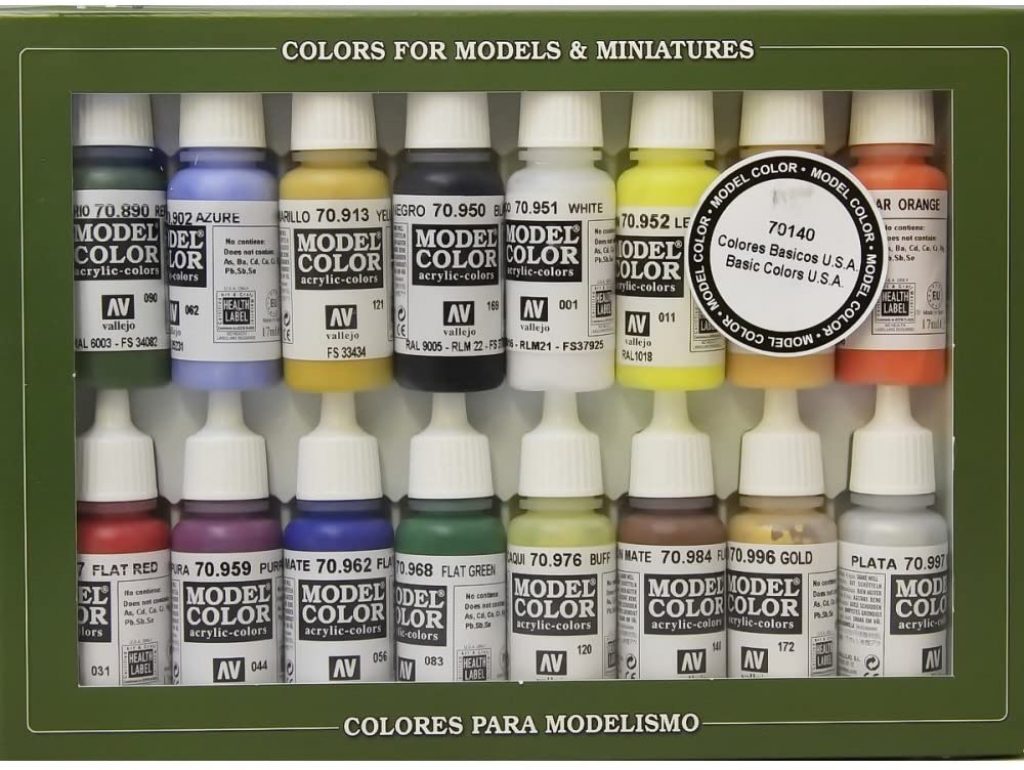 In almost every conversation about paints, you will hear the name "Vallejo" mentioned. This is referring to the extremely popular Acrylicos Vallejo.
Vallejo offers over 200 highly-pigmented paint colors with a specialized formula that adheres to just about any plastic surface, which makes it very popular among action figure customizers. Another great thing about the Vallejo paint is how well they work in airbrush systems. That means no need to purchase additional paints for your airbrush. Add a bit of their acrylic thinning medium and you're set.
One thing we love about Vallejo is their Basic USA Colors Paint Set. If you're a beginner and you looking to grab some basic colors without breaking the bank, this set is perfect for you. Also, if you are unsure whether or not you will ever use all of the available colors in a bigger set, the Vallejo Basic USA Colors Set may be a great option for you.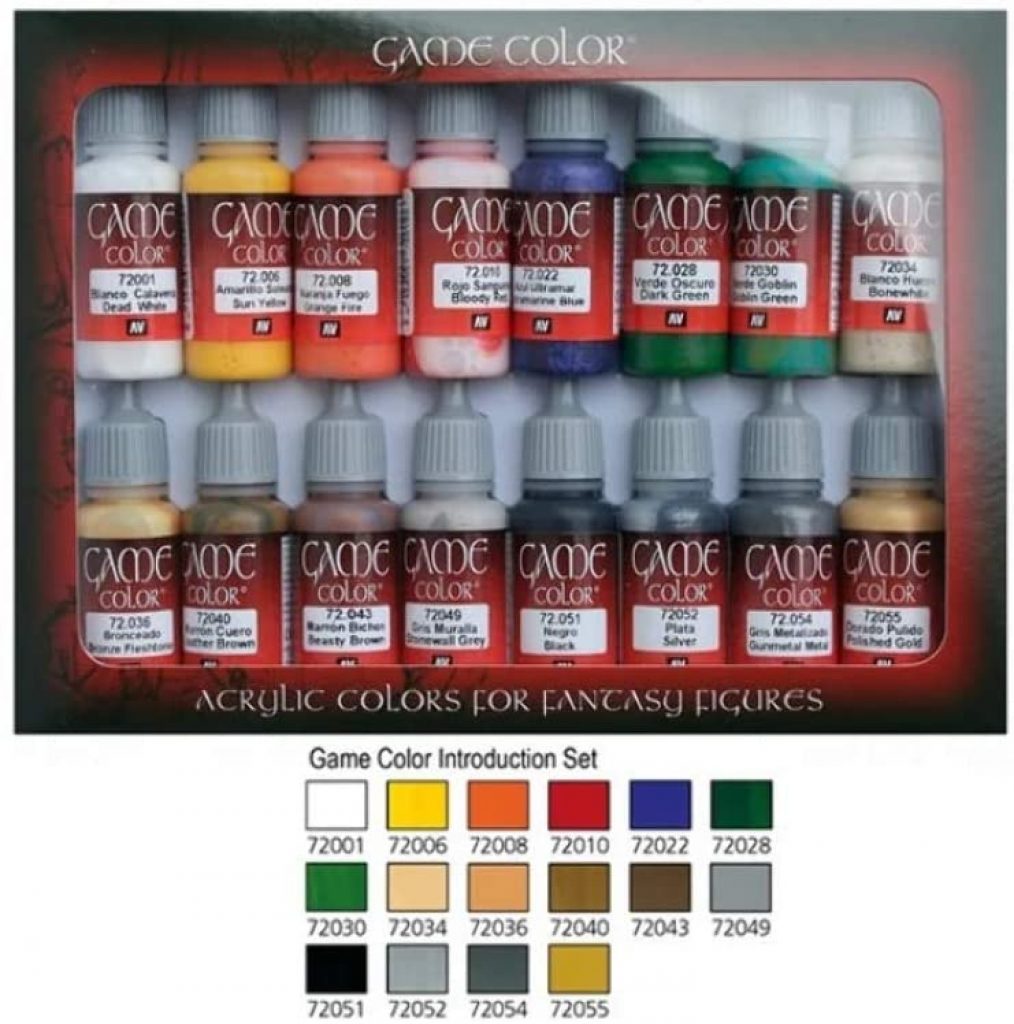 If you are looking for more "war-like" colors than the Basic USA Colors Paint Set, the Acrylicos Vallejo Game Color Intro Set is a perfect choice. This set has specially designed paint for a more medieval style of customization, including paints like Goblin Green, Bone White, Bronze Fleshtone, Cobra Leather, Beasty Brown Stonewall Grey, Gunmetal Metal, Polished Gold, and more. You can't go wrong here.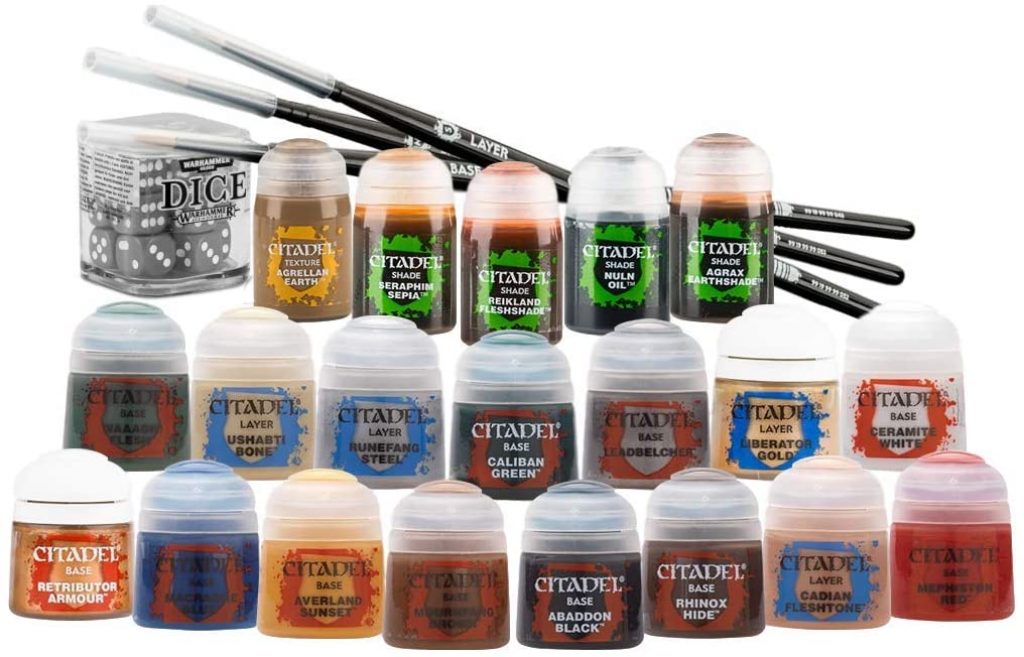 Last but not least, we can't forget about the amazing quality paints by Citadel paints.
We love that Citadel paints are widely available. If you run out, you can typically find them pretty much at any local hobby or comic book shop worldwide. With Citadel you know you will be getting consistency across all batches which perhaps is a reason for their higher prices. Although we don't mind it much, many folks dislike the paint pot that Citadel paints come in. Mostly because it can cause messes and cause your paints to dry out faster. Select your favorite colors on Amazon instead of ordering a pre-selected box of colors.
Stay tuned for more updates on the best paint for action figures you can add to your collection.
Read more about action figures now!
While we are at it….
The Best Paint Brushes for Action Figures and Custom Toys.
We have a huge array of different paint brushes for our action figures in our personal arsenal. From Walmart specials to more quality options, we truly recommend trying them all out for yourself. This way you have an idea of what "good vs. bad" means.
If it's European-made you know it's great quality. What's better is that the Army Painter Mega Brush Set is available at a great price. Included are 10 acrylic model paint brushes, with tips from wide to pointed. These fine hair paint brushes hold paint excellently and retain their shape for a solid amount of time (with proper care.)
Ok, so why all the talk about action figure paint? Action figure painting is not a new thing. In fact, the history of action figure painting, restoration and repair is closely tied to the history of action figures themselves.
Action figures have been around for ages, with the first widely popular action figure line being G.I. Joe. As these figures have aged and been played with over the years, many of them have become damaged or broken.
In the early days, there were not many options for restoring or repairing damaged action figures. Collectors and enthusiasts would often have to rely on their own ingenuity and resourcefulness to fix broken parts or restore faded paint. This could include using glue, paint, or other materials to try to fix the figures.
However, as the hobby of action figure collecting has grown, so too has the field of action figure restoration and repair. Today, there are professional restoration and repair services available for those who want to restore their vintage figures to their original condition. These services can include everything from repairing broken parts, to repainting and even customizing figures.
One of the most popular methods for restoring action figures is using "soft plastic restoration" (SPR) which is a process that uses heat to soften the plastic of a figure, allowing it to be reshaped and repositioned. This process can be used to fix broken parts, straighten bent limbs, and even change the pose of a figure.
Another popular method is using "repainting" which is a process of repainting the figure to restore its original color, or even giving it a new paint job. Hence, our list above! This process can be used to restore faded or worn paint, or even to create a custom color scheme for a figure.
Overall, the restoration and repair of action figures can be a time-consuming and challenging process, but for many collectors, it is worth the effort to bring their figures back to their original condition, or even to give them a new look.
Nowadays, there are also online communities and forums where collectors can share their experience, tips, and even tutorials on how to restore and repair figures, this way enthusiasts can learn and improve their skills. It's also worth mentioning that some action figures, especially vintage ones, can be valuable and it's important to be careful while restoring them and to seek professional help if necessary to avoid damaging the figures.