Pre-Order Peaky Blinders Tommy Shelby 1/6 Scale Limited Edition Action Figure By Big Chief Studios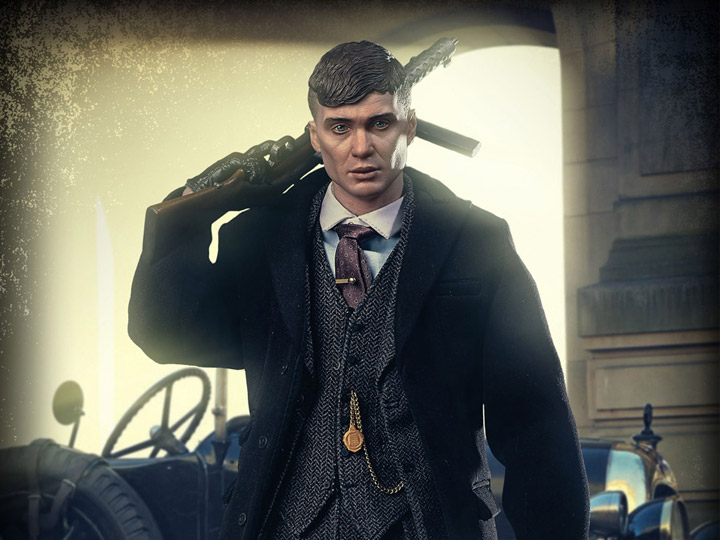 From the award-winning Peaky Blinders series, BIG Chief Studios is proud to bring you the 1/6 scale Tommy Shelby Replica action figure, the first in a series of collectible figures from the show. Tommy is outfitted in a hand-tailored costume and comes with breathtakingly life-like details.
Criminal entrepreneur, legitimate bookmaker, captain of industry, and now member of parliament, Tommy Shelby's rise through British society has been astronomic.
Product Features
Approximately 12 inches (30.48)
Limited edition of 2,000 pieces
Portrait head featuring an authentic likeness of actor Cillian Murphy
Anatomix male body with over 30 points of articulation
Box Contents
Tommy Shelby figure
4 Interchangeable gloved hands
6 Interchangeable hands
Black heavy overcoat with peaked lapels
Grey tweed effect single-breasted suit jacket
Gray tweed effect waistcoat
Pair of grey tweed effect trousers
Pair of braces
Pale blue shirt with white penny collar
Printed pattern tie
Shoulder holster
Pair of gentleman's boots
Newsboy cap (molded)
Newsboy cap (fabric)
.45 Semi-automatic pistol
Submachine gun with removable magazine.
Fob watch with chain and ingot.
Pair of glasses
Lit cigarette
Unlit cigarette.
Fitted cigarette for mouth
Cigarette case (open)
Cigarette case (closed)
Cigarette lighter
Tumbler with whiskey
Shelby gin bottle
Pre-order available at BigBadToyStore for $269.99 and estimated to arrive April 2021.
Checkout the latest celebrity/TV action figure news!