The Mandalorian and The Child Collectible Action Figure Set by Hot Toys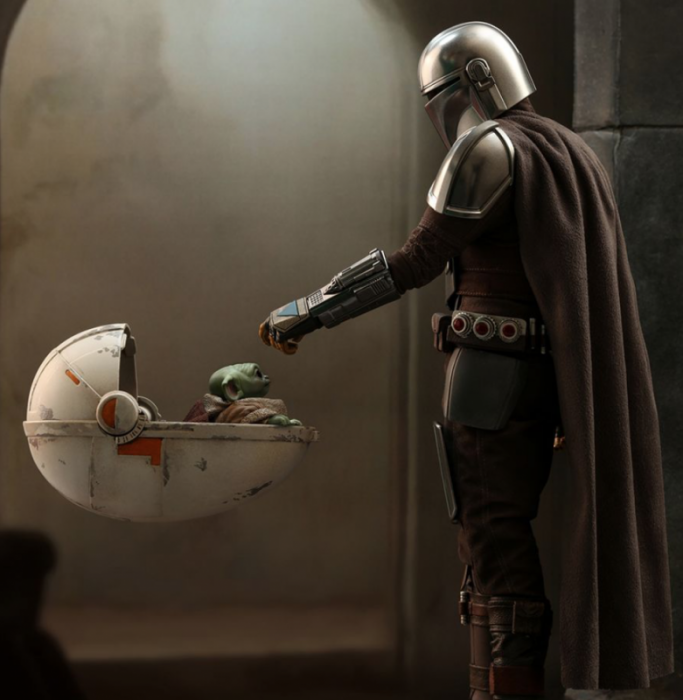 Hot Toys has dropped The Child and The Mandalorian set, including the newest version of the fearless Mandalorian in his beskar armor. This highly-accurate collectible set features the world's favorite bounty hunter with his meticulously crafted helmet and armor pieces, interchangeable right shoulder armor with Mudhorn signet, skillfully tailored outfit, an attachable jetpack, a blaster rifle and pistol, flamethrower effect, a tracking fob, and a desert-themed figure base. Also included, is The Child!
Now is the chance to have both The Mandalorian and The Child in your Star Wars collection.
Pre-order now available at Sideshow Collectibles for $259.00
Estimated to arrive: Apr 2021 – Jul 2021
Read more Star Wars action figure news now.
The Mandalorian and The Child Sixth Scale Collectible Set (Deluxe Version):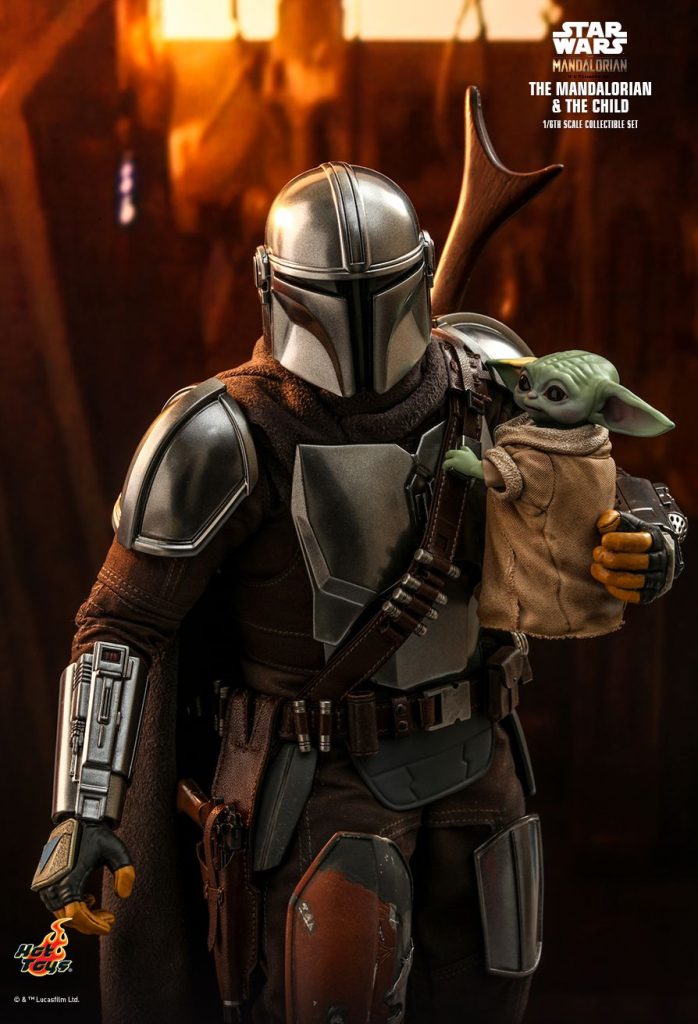 Authentic and detailed likeness of The Mandalorian
The Mandalorian's finely crafted silver-colored helmet
Metallic painting applications on armor, weapons, and accessories
Approximately 30cm tall
30 points of articulations
Seven (7) pieces of interchangeable gloved hands including:

One (1) pair of fists
One (1) pair of relaxed hands
One (1) pair of hands for holding a rifle
One (1) dagger-holding right hand
Costume:
One (1) dark grey colored cape
One (1) silver-colored chest armor
One (1) dark grey colored undershirt with silver shoulder armors
One (1) interchangeable silver-colored right shoulder armor with Mudhorn signet
One (1) dark grey colored vest
One (1) dark grey colored undervest
One (1) dark grey colored abdominal pad
One (1) brown-colored leather-like utility belt with pistol holster and ammo clips
One (1) left silver-colored gauntlet with interchangeable firing modes (normal and missile firing)
One (1) right silver-colored gauntlet
One (1) pair of dark grey-colored pants with battle-damaged thigh guards
One (1) pair of dark brown colored boots with weathering effect
One (1) pair of brown-colored calf armors
Weapons:
One (1) blaster rifle with attachable scope
One (1) blaster pistol
One (1) dagger
One (1) wired grappling hook
Accessories:
One (1) camtono with LED light-up function
One (1) stack of Beskar (can be placed in camtono)
One (1) whistling birds firing effects (attachable to left gauntlet)
One (1) hologram of The Mandalorian armor
One (1) magnetically attachable silver jetpack with two (2) real-like thruster fire accessories
One (1) flamethrower effect accessory 
One (1) tracking fob
One (1) piece of Beskar 
Specially designed dynamic figure stand with Star Wars logo and character nameplate