The Mandalorian Scout Trooper Action Figure With Speeder Bike by Hot Toys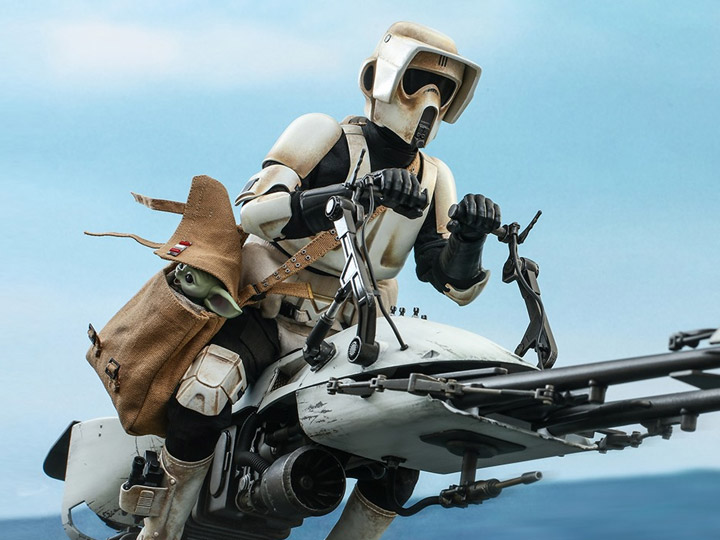 Behold, the newest release by Hot Toys! The Mandalorian Scout Trooper Action Figure with Speeder Bike. Scout Troopers are lightly armored soldier who have trained for more independence and adaptability than most Imperial troops. Standing 12 inches tall the Scout Trooper is a highly-accurate collectible figure that has been skillfully crafted based on its appearance in The Mandalorian.
The Speeder Bike is created with precision and meticulous craftsmanship. The sleek design of the speeder and its mechanical details throughout the body are beautifully recreated! The articulated grip, foot pedals, steering vanes, engine flaps, and cannon are spot on. Truly, amazing work by Hot Toys!
As an added bonus this set also includes a 1/6 scale figure of The Child.
Product Features
Scout Trooper

Newly developed helmet and finely crafted body armor with specially applied distress effects
Newly developed body with over 30 points of articulations

Speeder Bike

Length: 20.67 inches (52.50cm)

Highly-accurate paint application on the mechanical design with specially applied weathering effects
Box Contents
Scout Trooper figure
7 Pieces of interchangeable gloved hands

Pair of fists
Pair of relaxed hands
Pair of gesture hands
Right hand for holding pistol

Newly crafted Scout Trooper armor with weathering effects
Black colored and multi textured fabric under-suit
Creamy white colored utility belt with pouches
Pair of creamy white colored boots with pistol holster and weathering effects
Pistol
Wasteland themed figure stand with Star Wars logo and character nameplate
Speeder Bike
Speeder Bike stand
Newly developed1/6th scale the Child collectible
Shoulder canvas bag
Pre-order available for $454.99 at BigBagToyStore and estimated to arrive the 3rd quarter of 2021.
Read more Star Wars action figure news!