McFarlane Toys Batman: Dark Nights Death Metal Build-A-Figure (Dark Father) Available for Pre-Order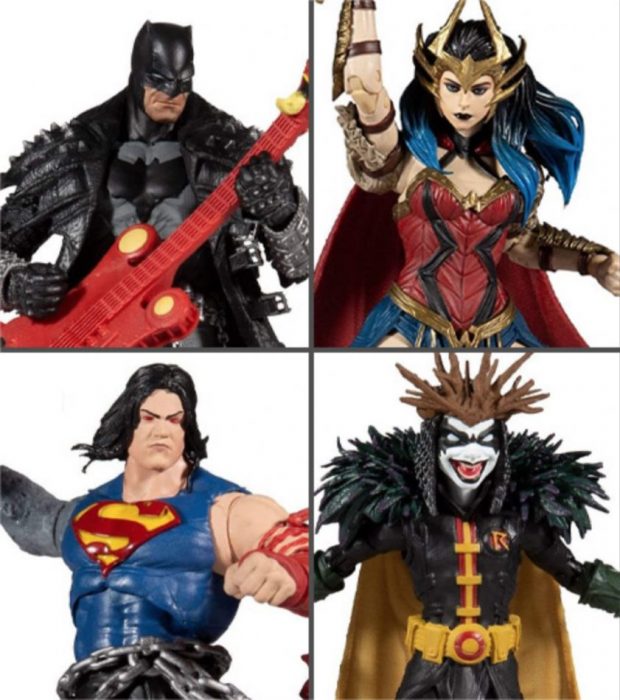 The McFarlane Toys Batman Dark Nights Death Metal Build-A-Figure Wave is now available for pre-order! Collect them all to build Dark Father.
Following the universe-shattering events of Batman Dark Nights: Metal, the Earth is enveloped by the Dark Multiverse and has transformed into a hellish landscape twisted beyond recognition.
These 7-inch scale figures were designed with McFarlane's signature detail and articulation, designed with 22 moving parts for full range and posing. Each DC Multiverse figure includes a collectible art card with artwork on the front and character biographies on the back.
Order the McFarlane Toys Batman Death Metal Build-a-Figure wave now!
Product Features
7 inch (17.78cm) scale
22 points of articulation
Collectible art cards with DC Comics artwork on the front, and character biographies on the back
Box Contents
Batman figure

Guitar
Trading card
Base
CTB Dark Father piece

Wonder Woman figure

Chainsaw
Trading card
Base
CTB Dark Father piece

Superman figure

2 Pairs of hands
Trading card
Base
CTB Dark Father piece

Robin King figure

2 Pairs of hands
Trading Card
Base
CTB Dark Father piece